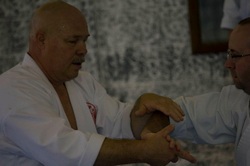 Tuite (Joint Locking, Trapping and Seizing Techniques In Okinawan Karate)
Tuite is a major aspect in Seijitsu Shin Do Kan curriculum. The techniques we teach are diverse and we attempt to make them as effective as possible. Our techniques normally can be slightly modified to fit the student's physical size and strength. This permits the student to perform the technique to the best of their ability, for their size. For use both in the dojo and on the street, the techniques are taught the same, with proficiency, and then by adding speed with increasing power. We believe speed and fluid movement is the primary key in self defense. Given that in many situations the attacker would be bigger than the person being attacked, we believe that speed and accuracy of the teaching technique is vital in surviving a real life situation. The simple fact is, in most situations an attacker will not give you a chance to defend yourself, so the little opportunity you have must be taken and done quickly. Also, because every situation and person is different, we teach more than 400 techniques and scenarios.

However there is much more to just that on the amount of techniques we teach. The techniques themselves are a true science. To do them correctly and masterfully you must understand balance (both yours and the attackers), accuracy of your strikes, blocks and kicks, how pressure points work and how they don't, and voluntary and involuntary reaction.

Balance
Balance is a key issue in self defense, probably the most important factor in any situation. First let's look at the basics of how keeping your balance betters your chances of survival in a real situation. When striking, kicking or blocking your balance must be perfect to achieve the maximum amount of power you can get out of any technique. If you are a little off balance you will sacrifice a certain amount a power in the technique, and in turn loose effectiveness of the technique. Each technique, when done for real, should have penetrating power. If you only hit the surface and don't move the attacker, you will not have the stopping power you need. Learn to keep your balance above all else in odd situations.

The attackers balance can either help you or help defeat you. When you are attacked as mentioned earlier, chances are that the attacker will be bigger than you and in turn probably stronger, however this is not always true. When someone is bigger and stronger the worst thing you can do is try to overpower him or her with simple strength, it just won't work. So you have to learn to offset their balance, so that you now have the advantage. Of course this is easier said than done, but with practice in different situations this can become much easier because it becomes second nature, after a lot of practice. There are many ways to offset an attackers' balance, and through the various techniques and scenarios you will learn those methods.

Accuracy of your strikes, blocks, & kicks, & pressure points
The accuracy of your striking, blocking and kicking techniques can determine whether you win or loose in a tournament kumite or self defense division, or whether you walk away from a real fight. Obviously you would not want to just depend on pure muscle in a real fight and obviously you would not want to get hit. When striking, blocking and kicking, proper execution of each technique requires good strong focus, proper turning and snapping motion is essential. Then being able to hit the area of the body you are aiming at with the force of a Mack truck is the difference between winning and losing, for real and in competition. The only difference is in competition control must be demonstrated.

Pressure Points (Kyusho Jutsu)
Pressure points are vital points of the body to be used to control, disable, or knock out an attacker. These points are small, normally the size of a dime, so they are extremely hard to strike. In real situations, and given the danger of the striking them practice involves touch and a little pressure not a strike. The most common pressure points are the eyes, under the nose, the temples, the side of the neck, the groin and the base of the skull. However these points are all over the human body. They are located wherever there is a joint and a nerve. Some common areas are in the wrist, mid forearm, between the knuckles, in the bend of the elbow, in the armpit, instep of the foot, Achilles tendon, back of the knee, the nipples and near the collarbones and the base of the neck. To strike, grab or use any pressure point, such as these, takes a great amount of practice to know exactly where they are, what angle to hit them at and how hard.

Voluntary and involuntary reaction
Some people don't realize that there is a difference, but along with everything else the human body truly is amazing. However I am not going to go into great detail on this, but the basics of it are. Techniques like joint locks, and pressure points cause involuntary reaction in the body. All else is voluntary reaction.

To develop these aspects is why we have so many techniques and scenarios. As times change and scenarios change there will be more added, however, it takes a great amount of practice to develop second nature reaction, and the truth is a true master of the Martial Arts will only truly react in a handful of ways in a reality situation. There are many techniques that can be done from those certain ways but everyone develops and reacts differently towards different things.

With each rank testing toward Black Belt, the techniques become more difficult, but they don't necessarily change in application. However, at each level of testing toward the Black Belt, more complicated scenarios will be introduced. Speed and efficiency is expected to improve, and understanding of the techniques is obviously also expected to constantly improve. There is no limit to how much improvement is expected. Even when a student achieves black belt, improvement is expected, only at a different level and with different aspects.