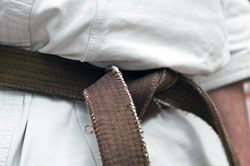 Our Testing Policy
Click here to save or print this in .pdf
NOTICETo: All Students and Parents Of Okinawa Karate Of TwinsburgSubject: Testing Policies and Scheduling Updated: August 26, 2014
Starting in the fall of 2014 all scheduled testing will be on a Saturday morning scheduled to begin at 10am. This will allow all the black belts the best opportunity to attend the testing and allow for more time when we have testing for higher ranks that will take longer.
Starting in 2015 we will schedule one (1) testing date per quarter so students and black belts may plan their schedules better so that everyone can be part of the testing. We like to have people attend even if they are not testing and it is our hope that this will help make it happen. Rank testing days should be an exciting time for everyone and we hope that everyone will take part even if you are not testing for your next rank.
No one should ask when they are testing Sensei knows when you are ready and will have the best opportunity to do your best and score highly on the test. PLEASE DO NOT ASK WHEN YOU ARE TESTING; You may ask what you need to work on for your next rank.
Your monthly tuition must be current to be able to test.
Testing fees are due no later than the day of the test unless otherwise arranged with Sensei.
We have set up a page on our website that will show all upcoming testing dates. You can find this under student resources at fisherkarate.com. They will also be posted on our dojo facebook page: www.facebook.com/okinawakaratetwinsburg
Thank you for your support and thank you for your understanding in making the rank testing process go smoother and make it better. If you would like a copy of our completely updated testing policy please ask us.
Testing Protocols and Requirements
1. The students must behave in a serious and disciplined manner throughout testing. 2. Be prepared on day of the testing. a) Have your training manual when you arrive or you will not test b) White gi only for testing (no exceptions unless you are testing for a kobudo rank) c) Know your material d) Be prepared to do your best3. All portions of the test must be performed at a level of rank consistent or better than for the rank being tested. 4. Before the test, students must complete these requirements:
a) Have a complete knowledge of the material for which they will be tested b) Complete any required assignments (such as writing a paper or required reading) c) ALL tuition dues must be paid in full or you will not test. If you are delinquent on any fees you will not test.5. All striking and blocking techniques must be presented in two ways: a) In an assigned stance, using both sides; and b) During the execution of the self-defense portion of the test. All self-defense techniques must be presented from a statement of the uke's attack (e.g.: show me two (2) headlock techniques). 6. Protocol a) No one is to ask when they are testing or attempt to reschedule the date of the test. If you miss a testing date you will have to wait for the next date. b) If you fail a test, you may retake the test at no additional cost, but you have to wait until the next date.
c) Testing fees must be paid the day of or before the day of the test unless otherwise arranged with Sensei.In the case of the student having a learning issue, we require an IEP or 504 plan before concessions will be made for that student. If they have a medical issue, documentation may be required for proof. There will be no exception to these protocols.
---
The Seijitsu Shin Do Kan Kyokai's main purpose is to provide quality traditional martial arts training in Okinawa Shorinryu Karatedo. Our goal is to research this traditional martial art and pass it on to others to the very best of our ability. With a honest and humble heart, we promise to give all we can to all who truly want to learn the traditional fighting arts of Okinawa.

The time in grade timeline for kyu rank is as follows:
Rank Average Time in Grade
White Belt 2 – 3 Months
9th Kyu Yellow Belt 2 – 3 Months
8th Kyu Orange Belt 2 – 3 Months
7th Kyu Green Belt 2 – 3 Months
6th Kyu Green Belt 4 – 5 Months
5th Kyu Blue Belt 4 – 5 Months
4th Kyu Purple Belt 4 – 6 Months
3rd Kyu Brown Belt 4 – 6 Months
2nd Kyu Brown Belt 4 – 6 Months
1st Kyu Brown Belt 4 – 6 Months

The time in grade timeline for yudansha is as follows:
Rank Average Time in Grade Average Age
Shodan 3.5 Years in Kyu Rank 16
Nidan
Sandan 3.0 Years as a Nidan
Yondan 4.0 Years as a Sandan
Godan 5.0 Years as a Yondan
Rokudan 6.0 Years as a Godan 31
Nanadan 7.0 Years as a Rokudan 39
Hachidan 8.0 Years as a Nanadan 49
Kudan 9.0 Years as a Hachidan 55
Judan 10.0 Years as a Kudan 65

All promotions will be recorded by the association and kept on file forever for proof of promotion for any and all members of the Okinawa Karatedo Seijitsu Shin Do Kan Kyokai. The records will be kept by year so one would have to know the year they were promoted to receive proof.

Instructor certification will be issued via the Okinawa Karatedo Seijitsu Shin Do Kan Kyokai.

Teaching Titles That May Be Awarded
Shidoin, Shihan, Renshi, Kyoshi, Hanshi

Testing Fees:
Our testing fees are very nominal, to just cover the costs of the belt, certificate and time of the testing. They are as follows:
Yellow—Brown: $20
Black Belt: $200 (covers an embroidered Shureido black belt from Okinawa, rank certificate and testing time).