About The Seijitsu Shin Do Kan Dojo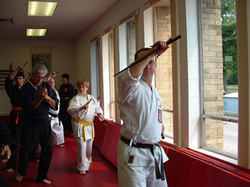 Okinawa Karate of Twinsburg is a small traditional karate dojo in Twinsburg, OH focusing on teaching traditional Okinawa Shorinryu (Kobayashi Ryu) Karatedo and Ryukyu Kobujutsu. We accept students from ages 4 - adult and have separate classes for ages 5-7, 8-Adult and Adult only classes.

We are a family owned, operated and oriented school teaching traditional Okinawa Shorin Ryu Karate Do and Ryukyu Kobujutsu. We accept new students starting at age 4 - any age adult.

All karate and kobujutsu classes are led by the chief instructors at Okinawa Karate Of Twinsburg. It is important to us that you get the very best we have to offer during your karate journey.
---