Shorin Ryu Karate Do (8 years old – Adult)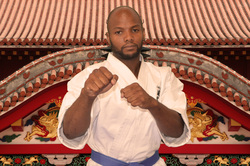 Sensei Donald Bringht Jr. as a blue belt
This is true traditional karate at its best. This class is for any age 8 all the way through any age adult. The class teaches the basics of Okinawan karate and progresses through the most advanced techniques our style contains. This is a very effective self-defense system however it is also great for physical fitness and mental development.

Training and we mean training in Okinawan karate has a great deal of benefits to it which we have listed some on our benefits page. However each person's benefits vary some and it seems as though each student realizes different benefits.

This style teaches Kihon (Basics), Kata (Forms), Bunkai (application to the techniques to the forms), Goshin-Jutsu (Self-Defense), Kumite (Sparring) and Body Conditioning and Strengthening

There are many smaller pieces that are taught but be sure the techniques are taught in great detail so you can best use them however needed without hurting yourself in anyway.

Children and adults are taught the same curriculum in a different fashion. Adults will get more detail and at a faster pace as well as some more effective self-defense techniques and applicatons.


---