The Seijitsu Shin Do Kan Seal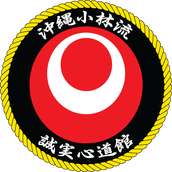 The logo of Seijitsu Shin Do Kan is a very simple design with a great deal of meaning.
1. The gold rope making up the border represent success and constent learning it takes to achieve success
2. The black background represents the difficult things we all face in life
3. The white text represents, honesty / integrity, humility, perseverance, discipline, patience
4. The Flag of Okinawa represents where our karate came from and it's creators. It also represents the peaceful, kind and welcoming nature of Okinawa.
---