Our Expectations Of Our Students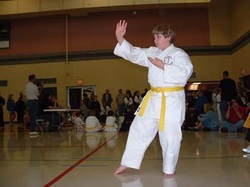 Sensei Oles' Stadnyk as a yellow belt at 13 years old.
The Expectation for each student is the same:
1) Each student must first apply themself and give a complete 100% effort in their training. This not only will help each student in the development of their skill level, but also in their attitude and confidence. Each students best will be different, as that is human nature. Whether it is due to a physical problem or a learning problem, we understand that certain things will be different for each and every student.

2) We expect that our students will live a good life, free of substance abuse and full of vigor. They are expected to be honest in all situations, admit when they are wrong, or that they do not know something. Humility is a major factor in life. Those that realize no one is perfect will be able to learn and grow. Those who think they know it all generally end up not learning anything.

3) Each student should believe in themself, show confidence in their ability but still maintain the ability to reflect humility in all they do. A student who is willing to help others learn is one that is able to help themselves to more knowledge and growth. We encourage the development of self-growth and self-confidence.

4) We expect of each and every student that no one says they "CAN'T" do something. Everyone can achieve a certain level of anything they put their mind to. But if they say they can't, before they put their 100% effort into the task, they will fail before they start. Failure is not an option if you have not first tried to do your best.

5) The fifth expectation, but not the least important, is that every student needs to learn to accept failure as part of the learning process. Unfortunately failure is a part of life, and many times people will fail before they succeed. In the Seijitsu Shin Do Kan dojo failure is viewed only as a stepping-stone to success. Just as a baby must learn to crawl before they walk one must fail at some point on the way to success. One should not give in to failure, but learn from it and continue on the path to success. .
---