Ryukyu Kobujutsu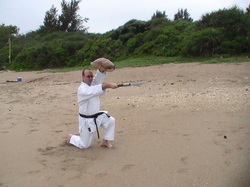 The study of Ryukyu Kobujutsu really compliments the study of karate. Ryukyu Kobujutsu is the study of traditional Okinawan weaponry. These weapons were primarily developed from farming and fishing tools on the island of Okinawa during the Ryukyu Kingdom era prior to Japan taking control of Okinawa and making it a prefecture of Japan.

At our dojo we practice with these weapons Bo or Kun (staff), Tunfa (millstone handle), Sai (Truncheon), Nunchaku (Horse Bridle), Kama (Sickle), Eaku (Oar), Tekko (Horse Stirrup), Nunti Bo (Spear), Tinbe & Rochin (Shield and short spear) and Tanbo (short stick)

This type of practice increases mental focus and physical strength.


---