Lil' Tigers Karate (5 - 7 Years Old)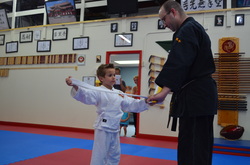 This program is a bit more fast paced than our Lil' Kickers program and is more focused on teaching traditional karate. Each class focuses on teaching the basics of karate, rolling and falling, forms (kata) and basic age appropriate self-defense.

This class will develop Coordination, Discipline, Focus and Strength in the student and help better their performance in school.


---